History of Crime Stoppers
The turn of events that started it all happened in July of 1976. On a Friday night Michael Carmen (a young college student) was working at a local gas station when two men decided to rob that gas station and, for no apparent reason, shot Michael from less then 10 feet away with a shotgun. Though Michael tried to tell investigators who had shot him, he was not strong enough to communicate it and eventually died of his injuries.

After six weeks of roadblock after roadblock trying to piece together why and who killed Carmen one of the detectives on the case, Greg MacAleese, had a wild idea. That idea was to get with the local TV station to reenact the crime. MacAleese thought that by by reenacting the murder it might trigger the memory of a potential witness who might not have understood what he or she saw. He also guaranteed anonymity and even offered a reward out of his own pocket for anyone that came forward with information that could lead them to the person or persons who were responsible for the murder of Carmen.
On September 8, 1976 at 10 p.m. the first crime reenactment was broadcast. The very next morning they received a tip that contained critical information. Within 72 hours after receiving the tip they were able to arrest and charge the two men who were responsible. 
After that first reenactment police received a number of other calls which helped them solve a handful of other local crimes. Realizing the affect this type of program had, members of the local community in partnership with the media and law enforcement, began an effort to provide crime-solving assistance to law enforcement, thus giving birth to the first Crime Stoppers program. 
The Crime Stoppers program has enjoyed great success boasting an average conviction rate of 95% on cases solved by Crime Stoppers' tips. The Crime Stoppers programs worldwide have solved over half a million crimes and recovered over $3 billion worth of stolen property and narcotics.
Today, there are over 1,000 Crime Stoppers programs in the United States, Canada, United Kingdom, Australia, South Africa, Bahamas, British West Indies, Micronesia, and other nations.
History of the Tri-County Crime Stoppers
Tri-County Crime Stoppers was founded on November 1, 1981. The original start-up funds came from the Mary and Susan Reker murder reward. Their murders remain unsolved as of this date.
Tri-County Crime Stoppers serves the Minnesota Counties of Stearns, Benton, Sherburne. These counties comprise 2,121 square miles of central Minnesota. It runs from Brooten in the west to Elk River in the east, and from Rice in the north to Kimball in the south.
The Tri-County Crime Stoppers is an accredited member of Crime Stoppers USA.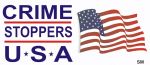 Tri-County Crime Stoppers Mission Statement
The mission of the Tri-County Crime Stoppers of Minnesota, Inc is to promote public participation in the apprehension of criminals and the prevention of criminal activity.
Represented Agencies
Any effective crime stopper organization must involve law enforcement, the media and the public, all as equal participants.
Law Enforcement Agencies:
3 Sheriff's Departments

24 Police Departments

1 District Highway Patrol Station

1 Department of Natural Resources District Station

1 Bureau of Criminal Apprehention Office

State Fire Marshall

FBI Office

BNSF Railroad Police

VA Hospital Police
Collateral Agencies:
MN Department of Corrections

St. Cloud State University - Public Safety Department

College of St. Benedict - Security Department

St. John's University - Life Safety Office
Crime Stoppers Song
Written by Rita Reker, April 2004

It all started at the chamber in 1981,
With Jerry and Robert and Woody and Glen,
They had heard about Crime Stoppers
And in their care,
We formed our own chapter,
And took off from there.
We gathered some good folks and formed our own board,
We soon had success and we paid some rewards.
We had set up a hotline so people could call,
And tell of a crime that was going unsolved.
For this honorable action they would get a reward,
And the great satisfaction for doing what's right!
We are media and citizens and sheriffs and police,
All working together at keeping the peace,
With Phil on the radio and a great new website
We're reaching our people and winning the fight.
Now looking back on these 22 years
We've come a long way fighting apathy and fears.
With our faithful board members and donors out there,
And we all stick together by doing our share,
With our talents, our money, and time that we give,
We'll make our three counties a good place to live!